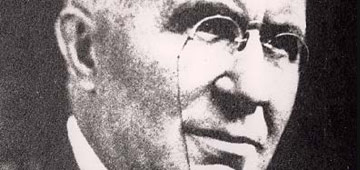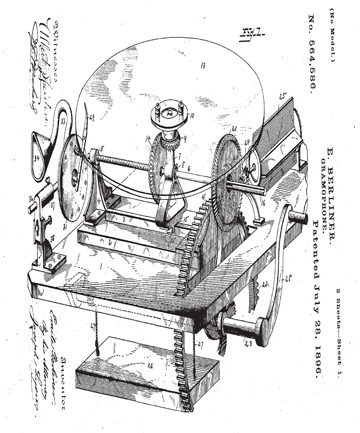 Businessman and Inventor
Emile Berliner was born in Germany on May 20, 1851. The young Emile had his first job in a printing shop and went on to work as a clerk in a fabric store. It was there that his talent as an inventor first showed itself.  He created a new type of loom.
In 1870, influenced by a friend who had emigrated to the United States, the young Berliner decided to cross the Atlantic: and so the adventure began. This bright young man began researching sound in his small Washington apartment that he had transformed into an electrical laboratory. By 1877, his research had led to the development and patenting of a microphone that Alexander Graham Bell acquired to improve his invention - the telephone. Berliner went on to work in Bell' laboratory for 6 years before returning to his own research.
On November 12, 1887 he received the patent for his invention: the gramophone, as well as for the process of creating the master and duplicating his flat disks. Without yet knowing it, he had forever changed the world of music.
He invited musicians to record on zinc disks and by 1893 he began to commercialise his invention. Bit by bit, the company he a founded with a few associates (United States Gramophone Company) was transformed, developed, sold and merged.
In 1900, the Berliner Gramophone Company opened its first store in Montreal. Six years later, the company moved to a new state-of-the-art manufacturing facility on Lenoir St in the St. Henri district of the city. Over the years, this plant was enlarged several times. In 1924, the Victor Talking Machine Company purchased Berliner Gramophone and in 1929 it in turn merged with RCA to become RCA Victor. In 1996, the Musée des ondes Emile Berliner was established in this former industrial complex.
Emile Berliner was not only a visionary, but also a great philanthropist. For example, he fought to have the American government accept pasteurisation of milk investing a part of his fortune advocating it. In doing so, he saved de numerous lives. At the time, unpasteurised milk was the cause of the death of many children each year. Berliner was also a great supporter of women's education and funded scholarships for women wishing to study the sciences in university. Emile Berliner died of a heart attack on August 3, 1929.